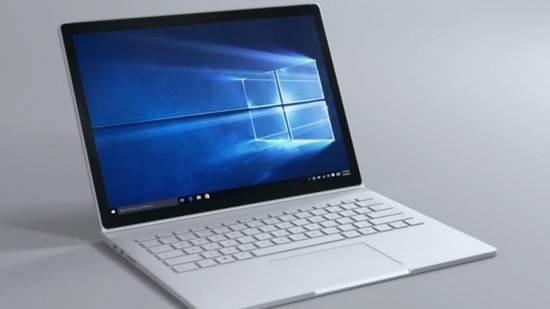 Apple has already done good job in the electronic field by introducing different devices but now Microsoft has launched their latest device, which is the first laptop, Surface Book having 13.5 inches screen.
This laptop is looking beautiful and wonderful with its 13.5 inches screen with glass trackpad, detachable screen, backlit keyboard, magnesium body. Microsoft has launched the perfect devices, which has the dedicated GPU, which is added within the display. When you use its side buttons, then it can be turned into a tablet. The laptop can be used as convertible like, Lenovo Yoga series and Microsoft calls it the 'dynamic fulcrum'.
Microsoft claims that the customers can enjoy with its perfect typing experience on the Surface Book and these are also added with the keys like backlit and it is also added with deep travel to get the more satisfying tactile feedback. When you use this laptop in the tablet mode, then it is available in the signature Surface Pen Stylus. When you look at the specifications of the laptop, you can get fresh and latest generation Intel CPUs, which is also paired with NVIDIA GPUs. The laptop is added with 12 hours battery life, quiet keyboard, and this is the first laptop, which is available in 13 inches size. The clients can understand something interesting in this device, which is provided to them.
The Surface Book is provided with the high end premium device and it can be competed with Macbook Pro and other vendors are giving the top of the offering for it. Microsoft has the capability to prepare the new products and the company has also prepared huge number of things from their premium feel to the detachable touch screen and it is also added with the dedicated graphics, which are included with light chassis and slim in shape. There are different changes are made in Surface Book and the people, loving with electronic products, they like them and they can have the strong laptop experience with Surface Book.
All of the people can expect that these products are not provided cheaply and Surface Book is provided in the market at $1499 and the rates of the devices are gone to $2699. Now other vendors will react on the launching of this product, Surface Book and it is interesting to look at their responses. Microsoft may face severe opposition from their hardware partners after the announcement of Surface Book tablet. The sale of the device, Surface Book is not an easy task to carry out in the market.
Now the customers can get this device from the market, as this product is the wonderful and excellent addition in the list of their products. If they need versatile laptop, they will jump on the top of the devices along with the launching of other products like Macbooks of Apple and the offerings like Lenovo, Asus, HP and Dell.