The Nokia under HMD Global has already launched the Nokia 8.3 5G smart phone earlier in March 2020. The device was launched in few markets in the world and the company has been proved the laziest mobile phone maker in launching the device to other markets. After eight months of launch the Nokia is now rolling out with the same device dubbed as Nokia 8 v 5G UV to other markets of world. The UV hints that the Nokia 8.3 is coming with a support of mmWave network.
Officially, this news has not yet been confirmed, however on the official YouTube account a countdown timer is accidentally posted to a live stream that would take place on November 9. The timer was promptly taken down. It is not yet confirmed that the Nokia 8 V 5G UW is a rebranded Nokia 8.3, but the sense makes this because it is the only 5G device announced by the company till now.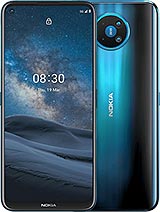 Let's see whether what the realities comes out in future. Stay tuned with us for more news and updates of smart phones and other tech news as well.